What's at Stake

There's a digital divide that exists in the U.S. today.  Blacks and Latinos represent roughly 30% of the U.S. population, but they are drastically underrepresented in the Silicon Valley high-tech workforce — Latinos average 7% and Blacks just 3%.
Up To Code Academy decided to do something about it!
We proudly present Digital Divide, Vol.1.
Numbers Don't Lie… Our Host
George is a 17-year-old high school senior, a business entrepreneur, computer programmer, big brother, consultant, motivational speaker, and mentor.
​George has participated in various tech events in his community and across the country. At the age of 13, George discovered his love for coding at the Hackathon Academy at Qeyno Labs, an Oakland, California-based tech company.
​By the age of 16, George had found his passion — combining social justice and technology.  George then decided to start a tech company, hoping to help other kids of color gain entry into the tech world as innovators, not just consumers.
​George Hofstetter Technologies, Inc., encourages people  to help change the world's perspective on race through technology.  George and his team speak to various audiences, such as police departments, educational institutions, civil servants, government officials, churches, and more.
George just released an app that aims to keep citizens free of police brutality and victimization, CopStop!. Aside from hosting and co-producing Up To Code's Digital Divide, Vol.1, he continues to expand his business while applying to college, where he wants to study computer science and counseling psychology.



The Program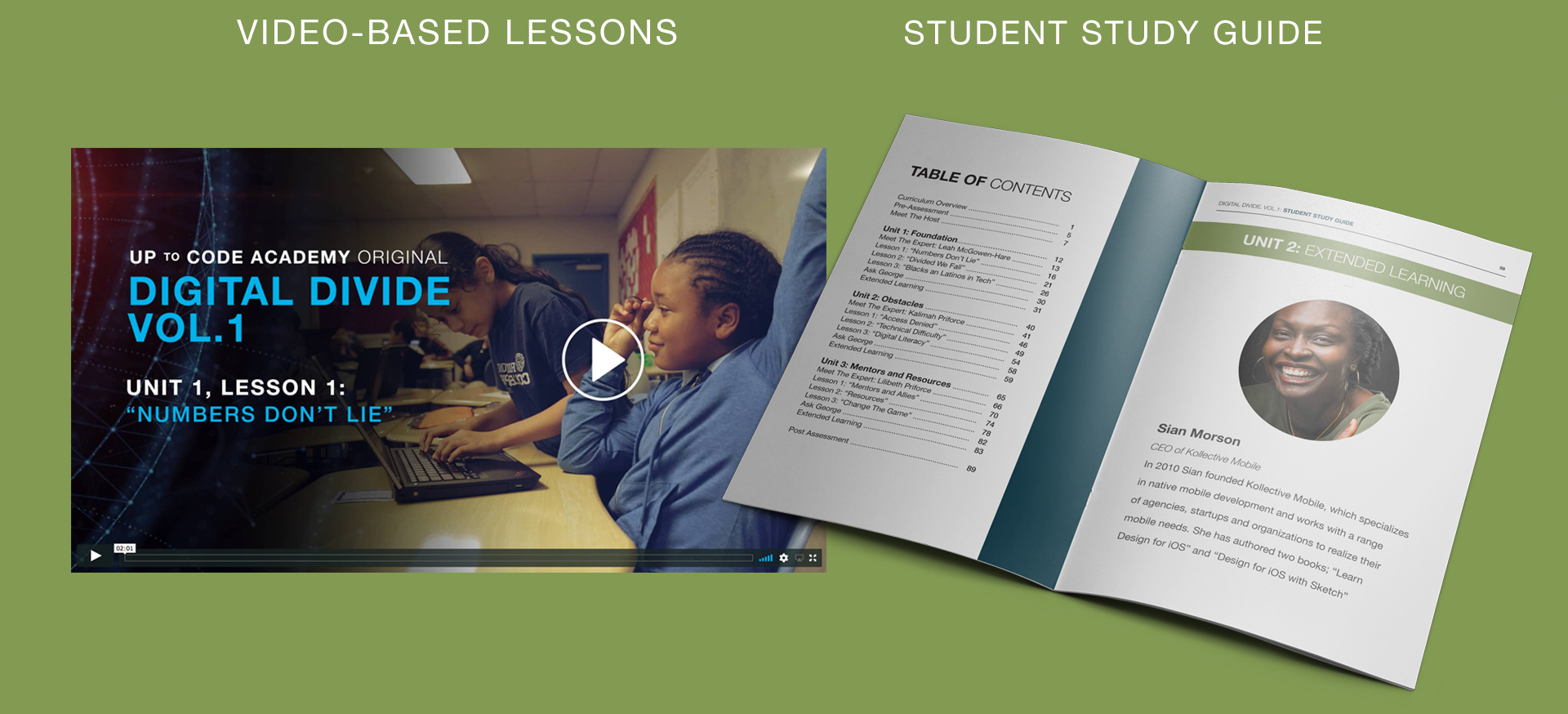 Digital Divide, Vol. 1 is a free video-based curriculum created for underserved Black and Latino youth in sixth through tenth grades — but learners from all walks of life are welcomed and encouraged to participate. Our introductory program is made up of three units and nine compelling video-based lessons. Each unit builds upon the previous ones and explores the larger social and cultural context needed to begin addressing the root causes of the digital divide.
Each lesson is three to five minutes long and features informative and engaging one-on-one interviews with hand-picked experts and our host, 17-year-old tech entrepreneur, George Hofstetter.
Student Study Guide – (downloadable pdf)
Facilitator's Guide – (downloadable pdf)

Pre-Assessment Questions

Meet the Host Video (2 mins)

Nine – Video Lessons  (3-5 mins each) with Quizzes

Three – Meet The Experts Videos (3-5 mins each)

Three – Ask

George Videos (3-5 mins each)

Eight – Extended Learning Videos (4-6 mins each)

Outro Video (1:30 mins)

Post-Assessment Questions

Music Video (2:30 mins) and Lyrics to "Silicon Valley" Theme Song



Learning Objectives

Digital Divide, Vol.1 aims to inspire underserved youth to pursue possibilities for technology careers and to raise diversity awareness within the workplace.
Volume 1 consists of nine video-based lessons that gives learners the ability to:
Identify Black and Latino pioneers in the tech industry, their contributions and achievments
Define the Digital Divide and its root causes
Explain the impact of the Digital Divide for Blacks and Latinos and the greater society
Begin to apply their knowledge of how they can use available resources to begin their own personal paths in technology
Music Video

Get inspired by watching the music video for the official Digital Divide, Vol.1 theme song, "Silicon Valley". The song was written and performed by Amari.
Director: Judd Flemming  |  DP:  Shaka Jamal Redmond
Getting Started
Watch this tutorial and learn how to sign-up, take the course, and access the U2C resource Hub.